What we do.....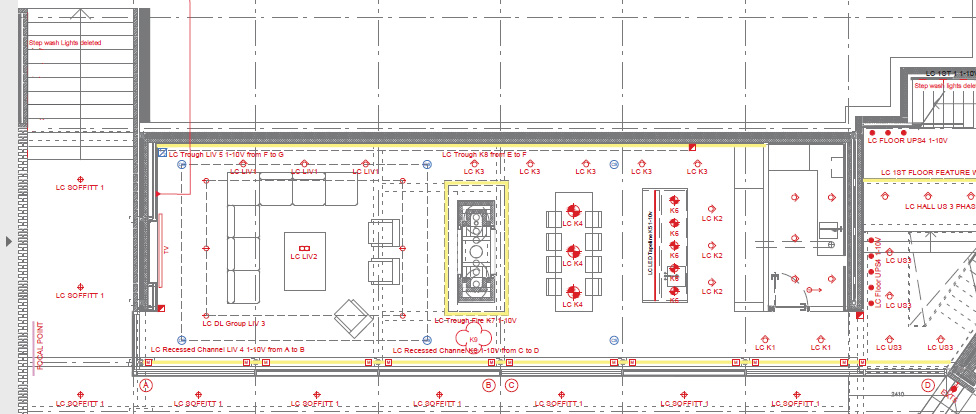 Lighting Design Service & CAD Lighting plans - We produce formal lighting plans positioning lighting to achieve the best effect, so in each room lighting is positioned to scale, circuit planned & circuit coded to provide our clients & electrical contractors with a clear plan for each space.
Lighting specifications - Selecting the best light fittings for the project rather than taking the easiest or cheapest route. Our skill lies in knowing which light fittings work best in each situation.
Producing a full lighting schedule, fully specified and fully costed to allow our customers to manage costs, it is after all their money.
'Working directly with clients, architects or interior designers our aim is to approach a brief and budget with a well planned design and the best and most relevant lighting technology. As an independent consultancy we are able to select our lighting from the wealth of designers and manufacturers from the UK, Europe and beyond.
Energy efficiency is a fundamental concern for any lighting scheme and we are able to offer advice on this as well as guidance on how to achieve compliance with the latest Part L of the UK building regulations'.
We design,specify & supply lighting control systems such as Lutron, Rako & many others - we don't push this on clients, in some cases it is the right route and in others a simpler or more tradional route such as momentary button controls are a better solution.
We are unfortunately regularily called in to re-work lighting installations and more and more it is energy efficient lighting such as LED down lights that are not actually dimmable, have an unspecified light colour output, lighting set out in runs unrelated to the room's use or are just badly designed, that clients can't live with.
We provide a lighting design consultancy, providing overall Lighting design schemes, lighting plan, Lighting circuit plans,specification & supply service to private and commercial clients. Selecting the right light fitting designs, positioning the lighting to best effect, correctly specifying the light fittings and their control gear, specifying energy efficient lighting that enhances spaces rather than ' depressing you with the poor light output', being able to control the lighting effectively & providing good value are the skills we bring to every project.
Our customers to date have been 70% private clients where we have created lighting schemes for their Homes & Gardens and 30% commercial